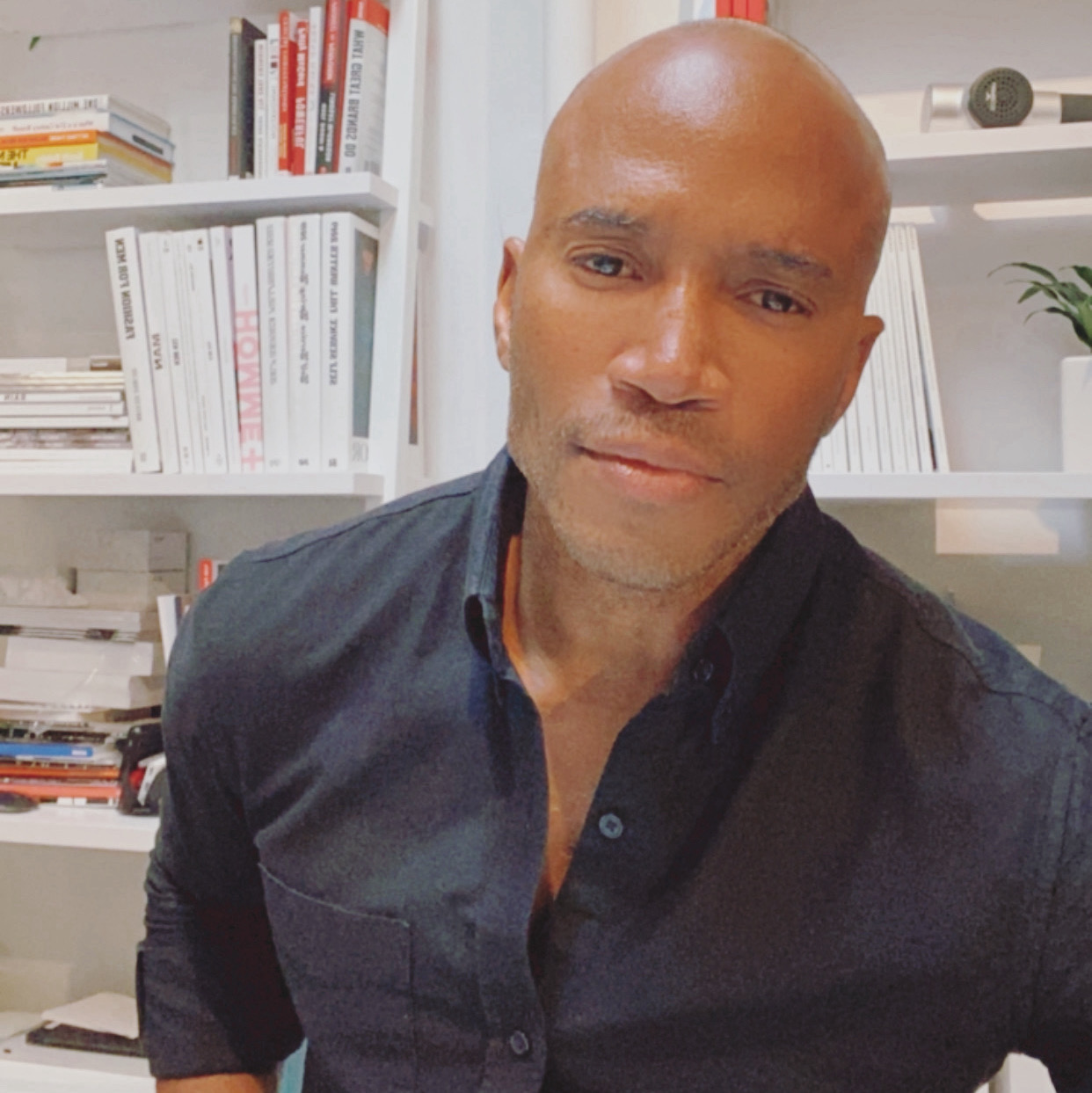 Here, we ask designers to take a selfie and give us an inside look at their life.
Age: 53
Occupation: Designer.
Instagram: @gossnyc, @derrickgoss
Hometown: Chicago.
Studio location: New York.
Describe what you make: GOSS is a mens lifestyle concept inspired by travel and the elements that surround us, fueled by the idea of living beautifully yet mindfully in an age of excess. Our first collection is a relaxed, yet sophisticated 12-piece assemblage of timeless, adaptive, climate-agnostic and multifunctional sportswear, knits, and shorts made to be stacked or stripped down to transition from sunrise to sunset, and beach to street effortlessly.
I wanted to create a collection that was simple—elegant and adaptable pieces that could layer effortlessly to adjust to different climates, but also work seamlessly with other pieces in my wardrobe. You can dress it up or down. The possibilities are endless with just 12 pieces. Just add your personal style.
I literally spent the month of January in Miami with only this collection. It had everything I needed, from a hybrid trunk to do yoga and swim; a coastal board short to tackle a work Zoom at home, or throw on a cashmere hoodie for a crisp afternoon; or the relaxed joggers that work with a pair of Vans or a dinner at the new Four Seasons Surfside.
The most important thing you've designed to date: A relevant, forward-facing point of view for the world we live in today. A business model and lifestyle concept that advocates for a more beautiful yet mindful approach to living. While we live in a world of immediacy, we aim to be more conscious about the world we create in.
Describe the problem your work solves: We're a brand that's inspired by the elements and made for the elements. Our primary question? How can we inspire each other to live beautifully through a modern lifestyle concept (clothing, accessories, etc.) that seeks to minimize our impact on the environment while maximizing our joy.
Describe the project you are working on now: We just did a soft launch in September and are continuing to fine tune the product collection we've put forward. We're optimizing as we continue to grow and want to continue to provide a product that stays in line with our brand ethos.
A new or forthcoming project we should know about: We have some new and exciting additions for summer and fall, along with exciting collaborations that extend beyond fashion.
What you absolutely must have in your studio: I prefer white with accents of green and wood and beautiful art and objects, and a good scent. The Edition makes the best candles for mood. I also have various Spotify playlists going. I'm into the curated Mood Booster playlist at the moment—listening to it 24/7. My must-have is an early 5am workout and meditation. I live for creating and imagining in the magic hours of the early morning.
What you do when you're not working: I am an observer at heart. Obsessed with biographies. When travel was a thing, that's what I did most to seek inspiration. I'm also committed to taking care of myself through fitness and wellness. At the end of the day, I love spending time with my family, friends, and the people I love.
Sources of creative envy: Too many to list, but nature without a doubt. Give me the ocean, a sunrise, a hike, some time with trees and we are golden. My favorite Einstein quote is "When you look deep into nature, you will understand everything." I find this to be true. The trick is in modern life to remember it.
The distraction you want to eliminate: There's too much of everything right now. It's a bit of a cliche but yesterday and tomorrow is an illusion. The power is in the now. If 2020 taught us anything, it's that happiness is not in excess, it's in intention—mindfulness of ourselves and others in the present.
Concrete or marble? Concrete.
High-rise or townhouse? Both.
Remember or forget? All we have is now. Forget yesterday and tomorrow.
Aliens or ghosts? I don't give them much thought.
Dark or light? Light.