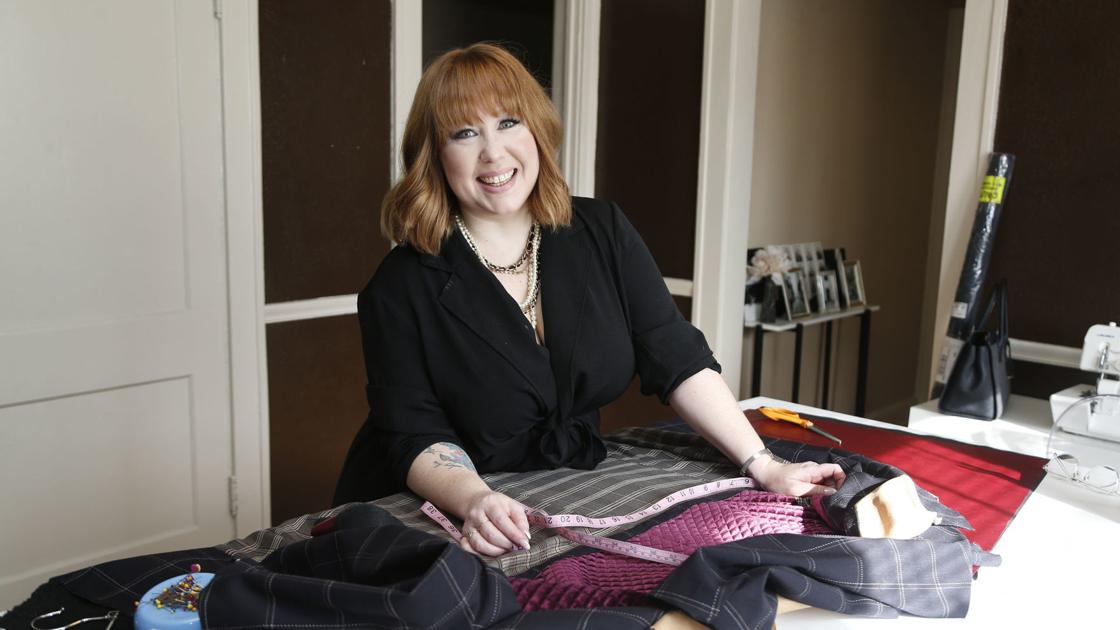 It was supposed to be just a tease, a hint of what was to come from a soon-to-be-launched clothing enterprise called The Atelier Co.
Meagan Ferguson, the founder and — at the present moment — the entire staff of The Atelier Co., posted on her social media accounts a photograph of one of her creations: a crop coat done in minky, a plush fabric that mimics the fluffiness of sheepskin.
"And almost immediately, I had five orders for that jacket," Ferguson said. "The response I got from that one post kind of took my breath away."
But Ferguson has been getting similar responses ever since she began working on creating The Atelier Co., which she describes as a "made-to-measure luxury street wear brand," which combines high-quality, sustainable materials with sophisticated, classically informed designs.
It is a business Ferguson has spent much of the past year developing, after spending more than a decade working as a costume designer for organizations ranging from Walt Disney World and Norwegian Cruise Lines to Tulsa Ballet and Theatre Tulsa.
The Atelier Co. will officially launch when the website — theatelierco.com — goes live Sunday, Dec. 15.
"That's the plan, at least," Ferguson said. "Of course, I know with any business things can change, but the people I have doing my website are pretty confident we'll make that date."
The initial offering will focus on outerwear – capes, overcoats and jackets for women and men.
"I want to put an emphasis on quality materials and beautiful craftsmanship," Ferguson said. "These are garments that are designed to last for years."
But Ferguson is already working on expanding her line. She will be one of the featured designers at the 2020 Philadelphia Fashion Week, taking place Feb. 18-22.
"For the runway show, I have to create 16 individual looks, or ensembles, which are made up of at least three distinct garments," she said. "It's a lot, but it's very doable. I just have to be very diligent about getting things done. And to be honest, I've been under much stricter deadlines than this."
Ferguson said she grew up around the world of fashion — her maternal grandmother was a seamstress, and her paternal grandmother operated a clothing store. She learned to sew at an early age and discovered she had a natural talent for spatial recognition that would help her be able to ultimately create garments without resorting to pre-made patterns.
"Not that I didn't use them," she said, laughing. "When I was younger, one of my favorite things to do was to go to fabric stores and page through the big pattern books. My grandmother had filing cabinets full of old Butterick and Simplicity patterns, which I have to this day."
Ferguson graduated from the Fashion Institute of Technology in New York City in 2014, and during her time there worked as an assistant to designers during New York City's Fashion Week.
Ferguson also created costumes that were featured on the TV series "Dance Moms."
She returned to Tulsa and began an association as the principal costume designer for Theatre Tulsa, beginning with the company's acclaimed 2014 production of "Les Miserables."
"I had already worked at Walt Disney World and Disney Cruise Lines, but this was my first theatrical show to do," Ferguson said. "It felt like being thrown into a fire that was constantly moving, but it turned out to be one of the best experiences I've ever had. It was such a great show, and the cast was wonderful to work with."
Ferguson would work on more than two dozen shows with Theatre Tulsa, including productions of "Chicago" and "Fiddler on the Roof," as well as working on the gowns Broadway star Kristin Chenoweth wore during the filming of her PBS special in 2014, before moving to Florida to work as a costume designer for Norwegian Cruise Lines.
"I loved the work I was doing," she said, "but I always knew what I really wanted to do was something where I would have ultimate creative and business control. That's where the idea for a custom apparel company came from."
One step Ferguson took was to apply for BetaBlox, the Tulsa-based business incubator program.
"I applied right after my mother had passed away, and I really didn't give it a second thought," she said. "I was traveling in Scotland when I learned they wanted to interview me, so I did my interview at two in the morning. I guess I was charming enough at that hour because I was accepted."
Ferguson has been working with Weston Bergmann, who has been serving as her business mentor as The Atelier Co. develops.
"I really don't think I would be where I am without the help and guidance I've received," she said. "I'm the sort of person who can spend a year working on the same garment, trying to get it 'perfect.' I think a lot of creative people are the same way, but you can't have that attitude if you're wanting to run a business."
What was the dining room of Ferguson's downtown apartment is now her work space, with sewing machine in one corner, serger in another, and a large table on which is piled works in progress, most of which require a great deal of hands-on work to reach a completed state.
And that, Ferguson said, is the point of The Atelier Co.
"Atelier is a French word for 'work room,' and I love the idea of the old school Parisian atelier, where craftsmen would work to create beautiful things," she said. "It's my goal to translate that ideal into a modern apparel company. A lot of care went into making these garments, and I want the quality of the clothes to reflect that."
She also wants her clothes to reflect the sort of effortless, yet distinctive style that one sees everywhere on the streets of Paris.
"I've always loved the culture of France, and of Paris in particular," Ferguson said. "I love how people just seem to have this innate sense of style. It's not over the top or ostentatious — it's just this very individual, but very true sense of beauty.
"Everyone seems to have his or her own look that they are comfortable with," she said. "That's what I want my clothes to have. Fashion should be comfortable as well as chic."