I love books, and I'm going to guess that you do, too. Now that it's summer, my family and I will have more time to just kick back with a book. I'm happy that my kids enjoy reading, but to be honest, it hasn't been easy getting to that point. Based on my experiences raising two very different boys, here are my tips for how to get your child interested in reading.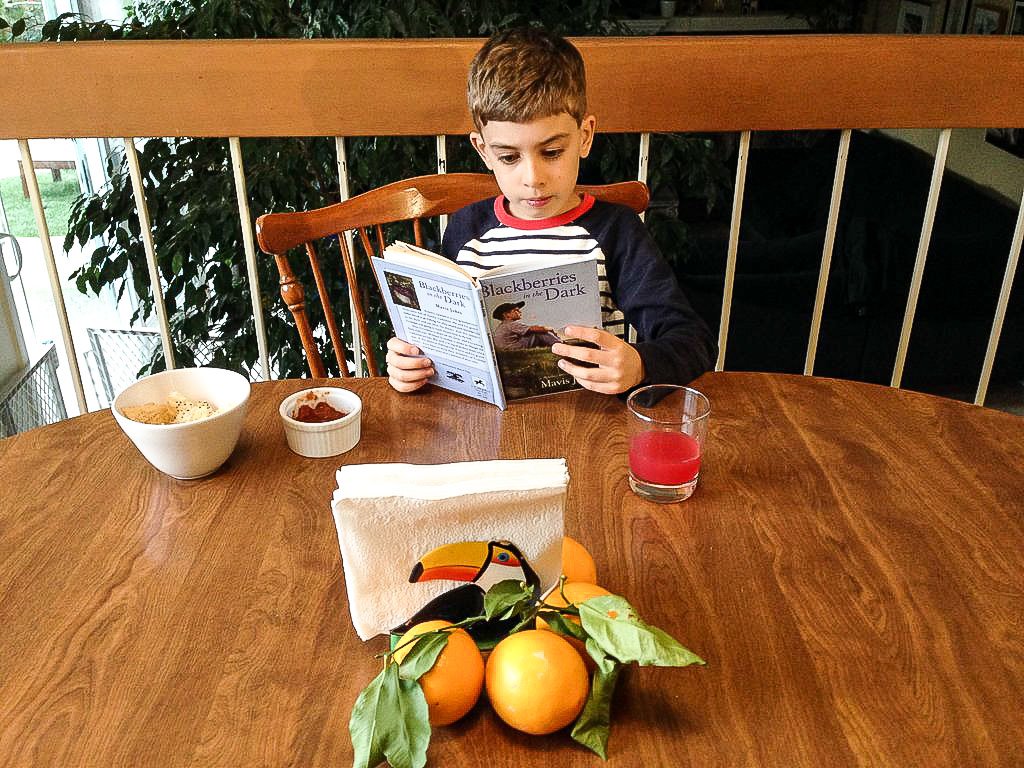 Why should we get kids interested in reading?
Time and again, research has shown that reading books helps kids in school. Kids who are exposed to books do better in school because they spell better, learn sentence structure faster and are able to hold their attention longer than kids who don't read books. Studies even show that they're also better at math and have more positive social relationships!
But reading has many other benefits, too. Besides cognitive benefits, it gives kids a non-screen alternative, exposes kids to the beauty and creativity of fiction and art, and allows kids to "travel" to other places and times. It also forces kids to use their imaginations, especially when kids are read stories that don't have pictures. This is something that was emphasized in my kids' kindergarten — get away from picture books and instead tell stories that make the kids imagine the scene in their heads.
However, this definitely doesn't mean that your kid has to be reading at a young age. In fact, Gabe is in first grade and has just started reading the most basic words. He goes to a Waldorf school where kids learn to read slowly. The good news is that reading has suddenly come very naturally to him — no memorizing sight words, so he's been working on other skills in the early grades instead. And kids can and should be read to even when they're able to read well on their own.
How to Get Your Child Interested in Reading:

Start when they're babies:
Reading really should begin when kids are tiny babies. Babies begin to internalize language just days after being born, and the repetition of words in a familiar story helps babies to develop language. Also, reading opens their little minds up to the sweet worlds that exist in story and picture books.
Reading to babies also helps them get comfortable with books. Reading doesn't begin with opening a book and reading the words. It begins with the very basic steps of recognizing what a book is, learning to open the cover, understanding that there's a front and back cover, and knowing that the book goes from left to right — these are all things that babies will naturally do when they're exposed to books from an early age.
Best of all, reading with a baby is a beautiful way to bond. Instead of looking at a phone or turning on a screen for a baby or toddler, reading together is a safe, positive way to connect. I have many memories of those early days with books: flipping the flaps of our favorite lift-the-flap books over and over, reading their favorite bedtime books every night, and my kids picking out books for me to read to them when I would get home from work every afternoon.
Read more: 8 books for kids who love adventure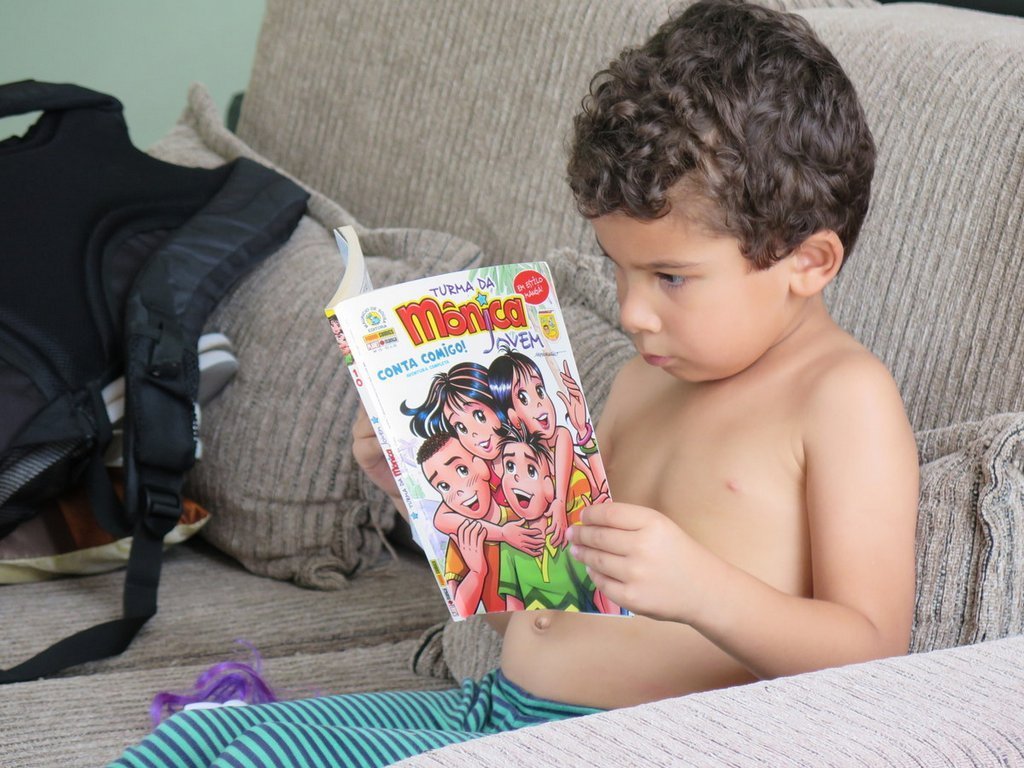 Explore a variety of reading materials:
Reading isn't just about novels. Both my husband and my older son, Noah, remind me of the joy that can come from reading other types of material. Here are some other types of reading materials that my kids enjoy, ones that just might get your kids interested in reading:
Magazines like National Geographic Kids and Ladybug (we often pick up magazines at our local library)
Non-fiction books like Nat Geo's "Weird But True." almanacs, or the beautiful Ologies series
Joke books! Gabe loves this one (see below), and Noah loves this one.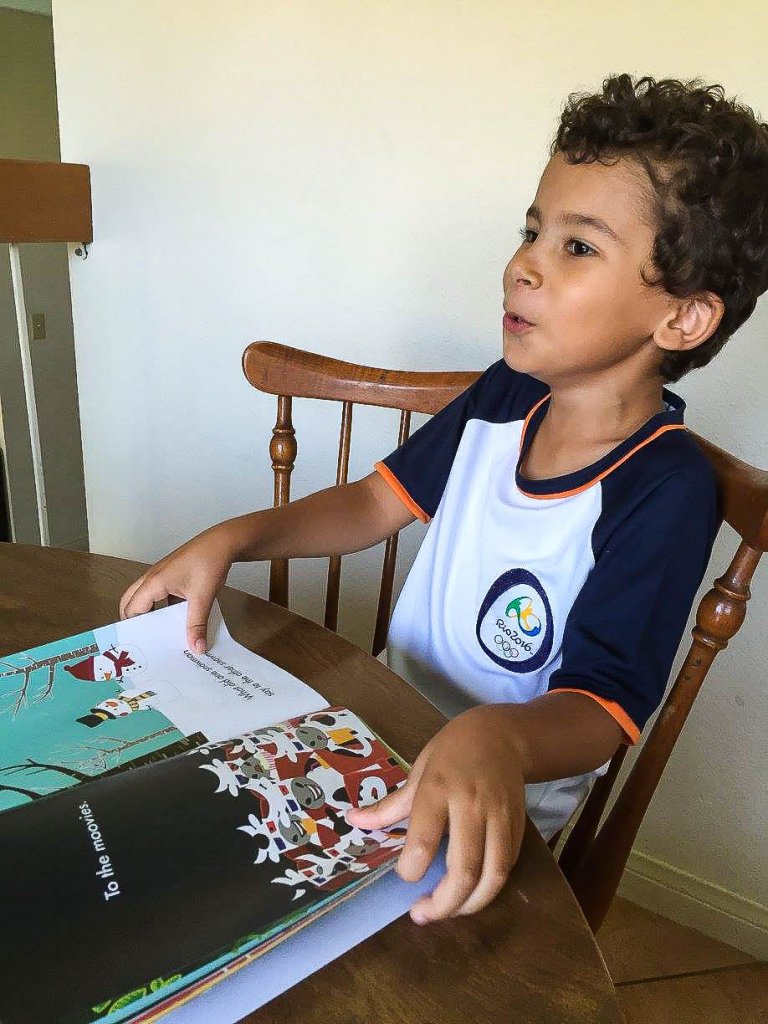 Make reading a family activity: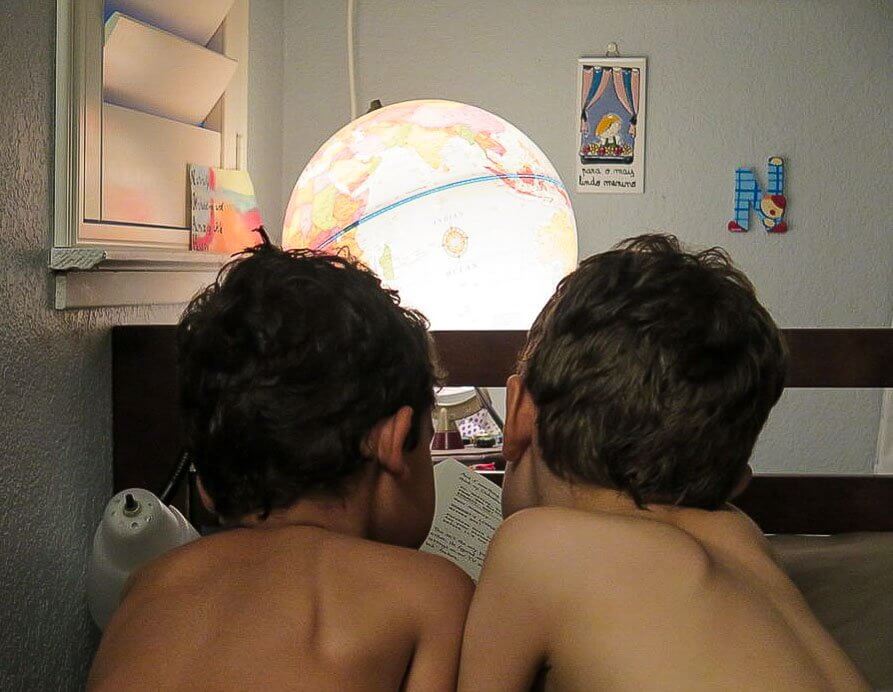 What a nice way to spend time together as a family: reading quietly as a group. I sometimes see my kids doing this — Noah and Gabe will be in the same room, each reading their own book. Instead of family time being about watching TV or movies together (which are also fun!), why not have family reading time, too?
Another way we make reading a family activity is that Noah reads to Gabe, and I read to both kids every single night.
Show a good example for kids:
Talk to your kids about books so that they know you enjoy them, too. When you get a new book, mention how excited you are to read it. Let your kids see you reading books or carrying books around. Make a monthly stop at the library part of your regular routine. Be mindful that kids imitate adult behavior, so think about ways you can show your love of reading instead of going for what might be the easiest distraction — a Candy Crush game, checking email or watching TV.
Replace screens with books:

If you're a parent, you know how hard it can be to get your kids away from screens. But instead of having screens be the default activity when kids are bored or want to relax, books can be the first thing to grab. Going to a restaurant? Grab a couple of books or magazines for the kids to flip through. Do your kids want some screen time to relax after school? Set up an hour of quiet reading time instead.
Give books as gift, make them a tradition:
My kids always get lots of books for holidays and special occasions. We often joke that we have a library in their playroom! They consider books just a normal part of gift giving. Yes, they receive some books that they don't really care for, but in general they love getting books as gifts. We often let them pick out their own books as gifts, too.
Is your child going to a friend's birthday party? How about a gift certificate from a local, independent bookstore instead of another toy from Target?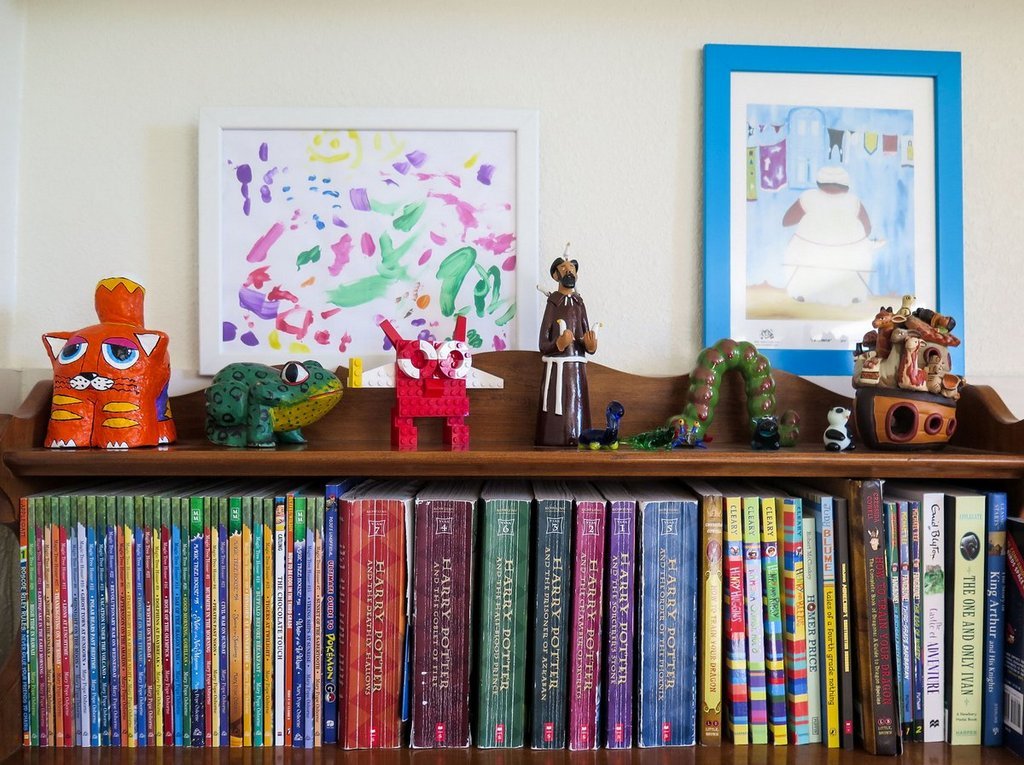 Don't force it:
I believe that if kids show resistance to reading, we shouldn't force it. Maybe take a step back and offer to read to them until they find a book they want to read on their own. For a long time, Noah only wanted to read graphic novels — this concerned me because the amount of text is so small, but I figured it was better than not reading at all, and he finally came out of that phase.
And give them the independence to choose what books they will read. I give my kids the choice as long as it's age appropriate. What Noah is interested in is not what I would normally pick, but he wants to read what interests him, not me!
What we read: Recommended books to get kinds interested in reading
There are so many wonderful children's books! Here are some of the books that have been our favorites at every stage from birth to age 10.
Where Is Baby's Bellybutton? board book set. As babies, both of my boys would squeal with laughter with these.
For toddlers through about age 6: anything by Oliver Jeffers, especially Stuck (fun!) and Here We Are (simple yet profound).
The Lion and the Bird, Olivia, and The Tiger Who Came to Tea
Bob Books for beginning readers
The Magic Treehouse series for ages 5+ and the related Merlin series. I love these books because they're sweet and they teach kids about world history and cultures.
Starting when Noah was 6 or 7, I read the Harry Potter series to him before bed. It took us about 3 years to get through all the books! The books may get a little creepy, but they really are so well done.
The Diary of a Wimpy Kid: hilarious!
National Geographic Almanac: full of fun facts. We get one for Noah every year.
Wings of Fire: for kids ages 8-11. This is the series I'm reading to Noah now  — he likes them because they're about dragons. The books are not hard but they are a bit dark.
The Fablehaven series: for older kids. Noah is reading this series on his own now at age 10.
Read more: Books to read in 2018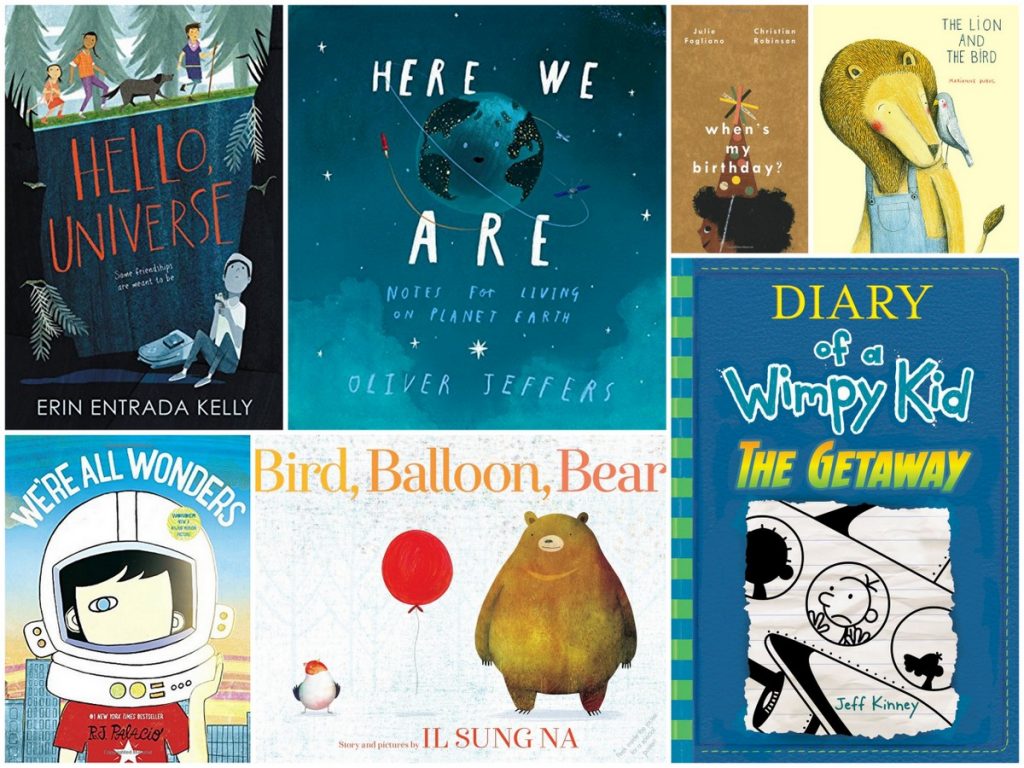 I'd love to hear your experiences! What tips do you have to get your kids interested in reading?
More: How to raise a reader from the New York Times