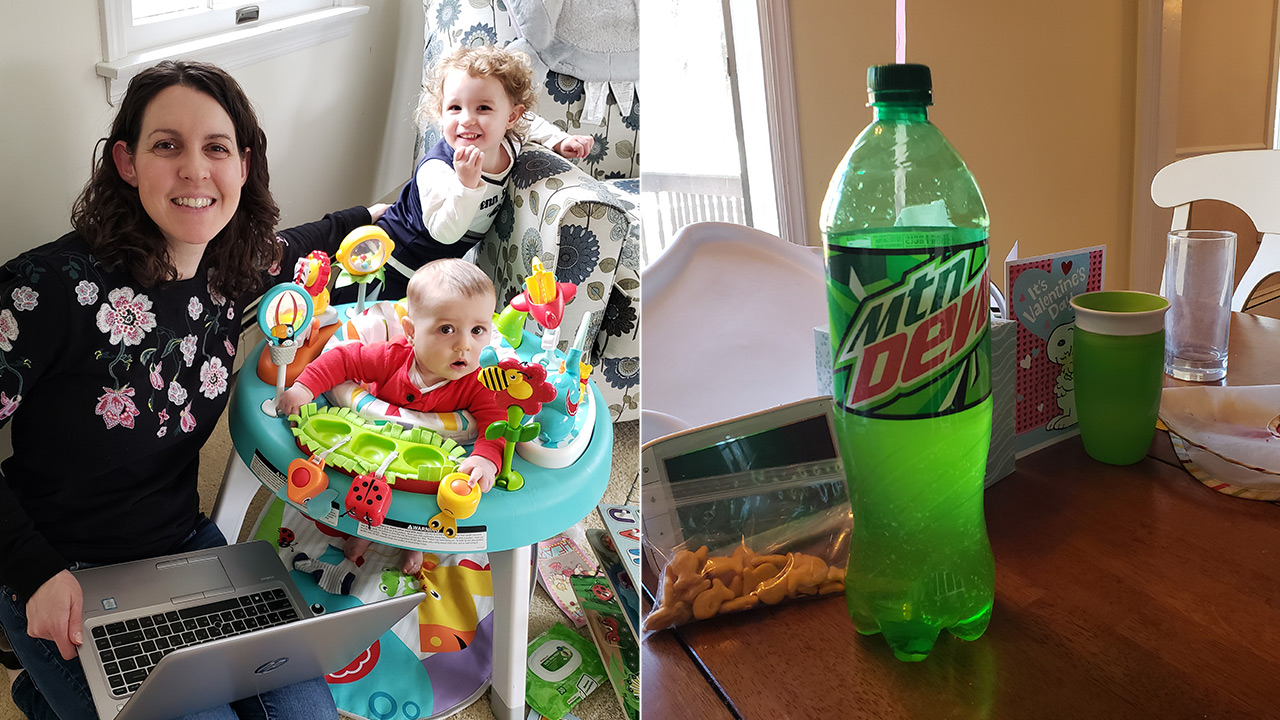 I came back from maternity leave on February 28. Exactly one week later, my 6 month old got the flu. Two days later, my husband and I were down for the count. Four days after that, Verizon put its work-from-home strategy in place. Two weeks later, here I am – working at home with my husband, 2.5-year-old daughter, and 6-month-old son.
A few days ago, I started a running list of the funny things that happen around here throughout the day, in hopes that one day I'll look back at them and laugh. Today, I thought I'd share them, and invite you to do the same.
This isn't advice. Trying to work at home and be present for your family is tough. I'm not making any claims that I have it figured out. I also know there are lots of people out there who are in more challenging situations than we are right now. But, if you do find yourself in mine, I invite you to laugh at the crazy that's happening at my house, and share your own.
As for the title of this little blog, I sneak down to the kitchen around 3 PM every day and take a few swigs of my favorite, terrible-for-you soft drink. Hey, whatever helps you get through, right?
Week 1
Thursday, March 19
My daughter asked if we were done working at 9:05 AM. I'm considering it the quarantine version of "Are we there yet?"
End of day – She's telling us that she's not just Elsa, she's Anna AND Elsa. What does this say about our mental state? I think much…
Week 2
Monday, March 23
I'm now tracking the length of the baby's naps by conference call. Today, he fell asleep before I called VZTV producer Kevin Higgins to learn how to record a Google Hangout, and woke up sometime before I talked to CO Tech Joseph Ruscito. I'll figure out the elapsed time later…
In what may be our greatest (only?) parenting achievement to date in this endeavor, we had two kids napping simultaneously for 1 hour today. Win!
Today, my baby officially achieved "annoying little brother" status – at 6 months old. He got up from an afternoon nap before my daughter. We laid him on the floor in the living room – and he immediately started rolling to get to ALL of the things she doesn't like him to have. Puzzle pieces, her stuffed lamb, play ice cream cart. It's like he knows…
Tuesday, March 24
Wednesday, March 25
I think we're starting to adjust to this new routine. I submit the following as proof:
My daughter has started commenting on Jeremy's wardrobe during the live broadcast. Don't worry – nothing too bad. "Blue shirt!" she says.
She's also started sitting at the dining room table with me. I'm on a conference call. She's coloring. "I doing my work." Indeed.
Thursday, March 26
We both have a lot of work to do this afternoon. Did you know The Sound of Music is 3.5 hours long? It's going to get us through to 5 PM. And she LOVES it. A classic (available on Disney +) for the win.
Friday, March 27
Two weeks into this, and I've decided that wireless headphones are a must. The baby keeps grabbing the wired ones out of my ears if I'm trying to hold him while I'm on calls. Purchase made at 11 PM via MyVerizon app.
Saturday, March 28
As we're getting ready for lunch, my daughter asks if it's time to watch "mommy's friend." No Up To Speed Live today, so we do the next best thing – call Jeremy and his wife Alex and have a brief chat. They're good sports, thank goodness.
Week 3
Tuesday, March 31
Wireless headphones are amazing. I made it through three conference calls this morning without having them pulled out of my ears. Win!
While I was on one of the calls, my daughter found and was playing with my wallet. Debit card is now nowhere to be found. Lose! To be continued…
Wednesday, April 1
Jeremy gave my daughter and her sandwich a shout out on today's Up To Speed Live. She mostly looked bewildered/confused, but it was still fun. She's a very loyal fan.
My husband did our grocery shopping this afternoon. Our local store is limiting the number of people allowed in at a time, so we thought it would be best to try to go at an off time. Mt. Dew supply replenished. Debit card still not found.
Thursday, April 2
I love the suggestions you've been sharing in the comments here. Today, I did our daily Up To Speed planning call pacing my living room with the baby in a carrier strapped to me. He tolerated it about as long as he tolerates any position – exactly 20 minutes. Thanks for the idea, Jeb Charles!