Naturally for Edwards and Tregoning, there were pros and cons. Would the collaboration cannibalise their own business? How would joining forces with a fast-fashion retailer go down with an increasingly environmentally-conscious public?
In the end, the potential to reach a younger demographic and new markets, in particular Europe and China, was too strong, especially when H&M committed to making the collection part of its "conscious" range, sourced from 95 per cent sustainable materials.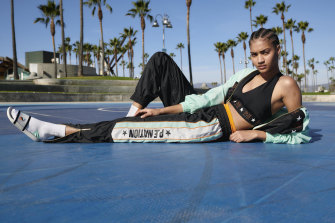 "They collaborated with Alexander Wang, Stella McCartney and Balmain – that's now where we play with them," Edwards said. "We're part of that amazing designer portfolio now … that's a pretty proud moment."
The collection, which launches in 4500 H&M stores globally and online on March 5, includes 30 pieces plus accessories with the P.E Nation signature logos, colour-blocking and fashion-meets-functionality.
"They were really ramping up their activewear … it ticked a lot of boxes for them," Edwards said. "For us, it was eyeballs, foot traffic, global. When it's so mutually beneficial it's so easy."
The pair said it was important the collection "mirrored our journey" on sustainability. Edwards explained that last year, P.E Nation scored an "F" in the annual Baptist World Aid Ethical Fashion Report after it "missed the email" for submissions. She said the grade did not reflect the state of the company at the time, and the brand has progressed a long way since then but "it doesn't happen overnight".
Loading
"We are so far down this track that anything we do going forward must be fully sustainable," she said. "There's no turning back. The community needs to know how hard it is to move mountains like that."
Tregoning said having the backing and scale of H&M meant during the design process they could access fabrics and components that would normally be beyond the reach of a company P.E Nation's size. But it also required the designers to work at a speed they were not used to.
"They can turn a sample around in six hours, that's crazy," she said.
The collection, which will be available for four weeks, will be priced from about $15 for tanks, up to $90 for the spray jacket.
"When you have the leverage of ordering one million pieces per garment, your prices radically come down," Tregoning said. "It is fast fashion but they are doing it consciously."
Melissa Singer is National Fashion Editor of The Sydney Morning Herald and The Age.